Welcome to ADIY, your number-one source for all IoT products. We're dedicated to providing you the best of products, with a focus on dependability, customer service, and amazing quality.
We have just started and have a long way to go along with your support. We're thrilled to turn our passion for electronics into Make in India Products. We hope you enjoy our products as much as we enjoy offering them to you.
ADIY serves customers all over India. If you have any questions or comments, please write to us @ support@adiy.in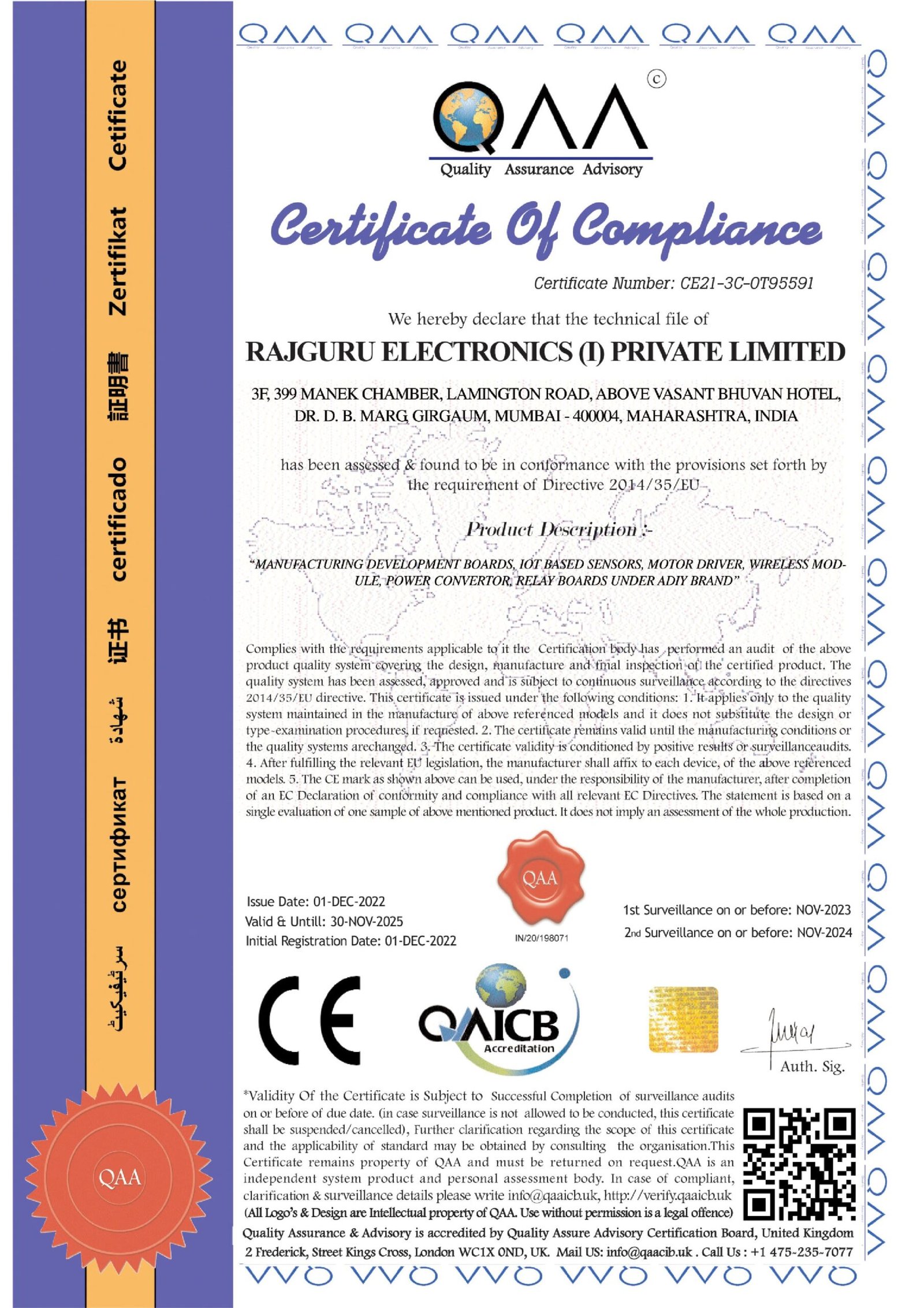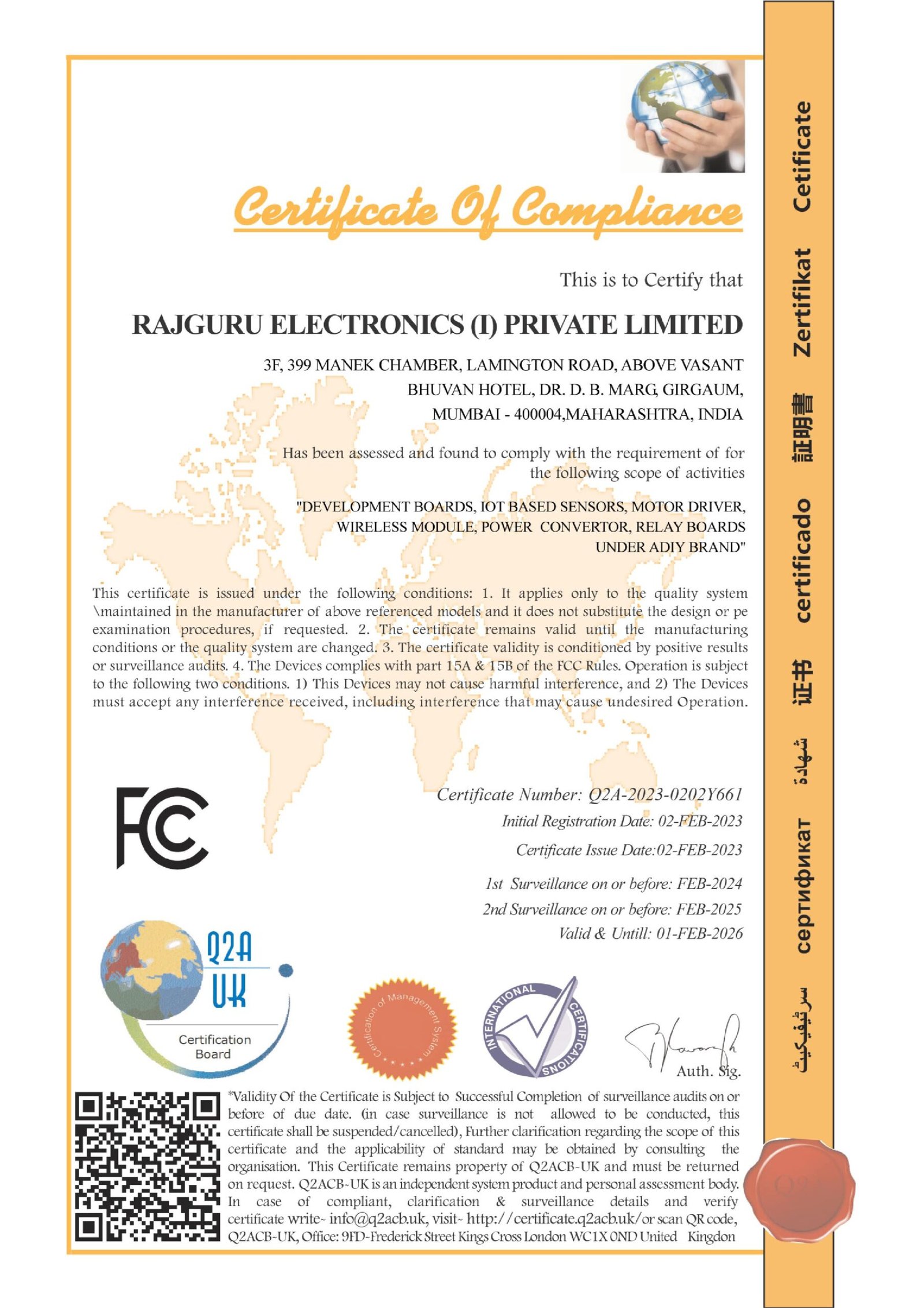 ADIY: Revolutionizing IoT Module Manufacturing and Beyond
Introduction:
Welcome to ADIY, a cutting-edge module manufacturer at the forefront of the Internet of Things (IoT) revolution. We are committed to designing, developing, and delivering high-quality IoT modules, sensors, breakout boards, relay modules, and more. With a passion for innovation and a dedication to empowering our customers, we strive to create a connected world where devices seamlessly interact, making life smarter, safer, and more efficient.
Our Mission:
At ADIY, our mission is to simplify the complexities of IoT development for enthusiasts, engineers, and businesses alike. We aim to provide reliable and user-friendly modules that integrate seamlessly with various IoT applications, enabling our clients to focus on creativity and functionality, rather than worrying about the intricacies of hardware integration.
Cutting-Edge Technology:
Powered by a team of experienced engineers and developers, ADIY harnesses the latest advancements in technology to create state-of-the-art IoT modules. Our modules leverage the power of wireless communication, sensor technologies, microcontrollers, and other electronic components to enable seamless data exchange and real-time monitoring.
Product Range:
IoT Modules: Our IoT modules form the backbone of connected devices, facilitating data communication and networking. From Wi-Fi and Bluetooth to LoRa and Zigbee, we offer a diverse range of modules to cater to various connectivity needs.
Sensors: ADIY's sensor collection includes a wide array of environmental, motion, and biometric sensors. These sensors provide accurate data, allowing developers to build intelligent systems with applications ranging from environmental monitoring to healthcare.
Breakout Boards: Our breakout boards are designed to simplify prototyping and experimentation. They enable easy access to various interfaces and connectors, making it hassle-free to integrate different components into a project.
Relay Modules: ADIY's relay modules offer reliable control over high-power devices, allowing for seamless automation and remote control applications. They find applications in home automation, industrial systems, and beyond.
Quality and Reliability:
ADIY is synonymous with exceptional quality and reliability. Each module and component undergoes rigorous testing and quality assurance procedures before reaching our customers. We adhere to industry standards to ensure our products meet the highest benchmarks for performance and durability.
Customer-Centric Approach:
We value our customers above all else. ADIY takes a customer-centric approach, actively seeking feedback and insights to improve our products continually. Our customer support team is always ready to assist, providing technical guidance and addressing any queries or concerns.
Open-Source Community:
In line with our commitment to fostering innovation, ADIY actively participates in the open-source community. We believe in the power of collaboration and share valuable resources, knowledge, and code to support developers and makers in their projects.
Future Outlook:
As technology evolves, so do we. ADIY remains dedicated to staying at the forefront of IoT innovation, exploring emerging technologies, and expanding our product range. We look forward to contributing significantly to the growth and advancements in the IoT industry.
In conclusion, ADIY is a leading module manufacturer driven by innovation, quality, and customer satisfaction. With our wide range of IoT modules, sensors, breakout boards, and relay modules, we empower developers and businesses worldwide to realize their IoT visions and build a smarter, interconnected future. Whether you're an experienced engineer or an enthusiastic maker, ADIY is your partner in IoT exploration. Join us on this exciting journey as we revolutionize the world of connected devices.